Crying is a fascinating mechanism. I'm not talking about shedding a few tears to get rid of a speck of dust in your eye, I'm talking about what we call psychic, or 'crying' tears. Basically, this is the good ol' fashion bawling we do in response to emotional rather than physical stimuli.
We know for a fact that these tears serve a number of sociological and physical purposes and have some effects which aren't entirely understood yet. It's plain to tell that they make us feel better in a very real sense, but we don't use them much.
In live action, tears are generally used sparingly and often implied rather than shown. It's my theory that crying in a way that's both realistic and photogenic is a rare and difficult art, which is why directors will avoid it or work around it whenever possible. Generally, we will hear people whaling or see a single manly tear impossibly make its way down an impassive cheek. Maybe artistically smudged mascara. We have to infer the rest.
Anime however, doesn't have these restrictions. As such, characters cry ALL THE TIME. Macho super heroes and sports stars shed tears of frustration without hesitation. Romantic leads of all sorts will soak in their sorrows at the drop of a hat. Joyful occasions will be celebrated will teardrops and kindnesses will be acknowledged alike.
There's something very beautiful and freeing about embracing our weepy side.
I was never much of a cryer. I'm not a particularly emotional person to start with and eastern Europeans tend to favor stoic demeanors. I was taught to avoid displays of emotion in general. Personally, I always had a lot more trouble with the not laughing too much part. My parents sort of gave up on that. To this day I'm a disgraceful public laugher. But crying just wasn't my thing.
I'm selfish with my pain, I don't like to share it. I ball it up and keep it inside like a little treasure just for me. Aside from a few particularly sad events, I really never cried at all, unless I managed to laugh myself to tears, and that's unfortunate. Because I've come to realize, crying is wonderful tool. It relaxes and centers you.
Maybe I've just grown sappy with age and it's a coincidence, but since I started watching a lot more anime again (a few years ago), I also started crying a lot more frequently. I guess something in my brain got switched on as the sight of tears became such a common thing. Or maybe, on some level, I'm imitating my favorite characters. I wouldn't put it past me. I will buy clothes because they kind of look like something Maka Albarn would wear. I legit dress exactly like Izaya on a regular basis. No one has ever notice but I know! I also cook character's favorite meals whenever I can. What I'm saying is that I'm a big old dork that's super easily swayed. So yeah, if Killua can cry – so can I!
I'm still not very prone to crying due to negative feelings but give me anything that can pass for heartwarming or just plain sappy and here come the waterworks. The only reason my Natsume manga survive is that I have glasses to catch the overflow.
And I'm not at all embarrassed by it. I'll tear up in public and happily explain with a huge smile to a stranger wondering if I'm ok, that the guys on the team just lost that big match they've been practicing so hard for and although they are super disappointed and sad, they are still rallying together, and friendship and perseverance is just so wonderful…sob…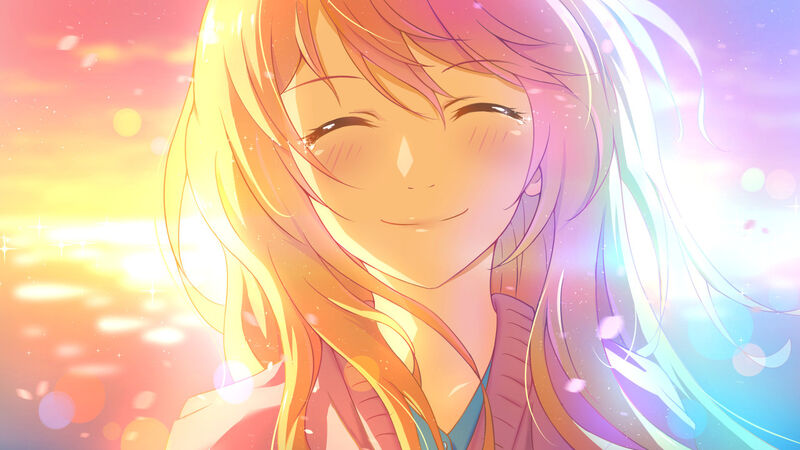 This regular release has done wonders for me. Not that I needed any help with it, but I think it's made me a happier and more optimistic person but much more than that, it's infused me with a sense of balance and serenity. It's made those little things that touch my heart seem more present and important. They linger with me longer now that I've marked them.
We really don't cry enough when we're happy I think.
Through anime, I've reframed my concept of tears. I see them as a celebration and meditation. They aren't something to be hidden or ashamed of in any way. As natural and healthy as stretching, which is something else I should do more of.
So next time you feel those tears welling up, don't hold back. Share them, use them, enjoy them!