In one of the first Pretty Derby Posts, I made a joke about the main character having put on weight because she's secretly pregnant. There was a bit more to it…you had to be there. Point is, this was a joke because a pregnancy (scare or otherwise) story line in anime is practically unheard of. In western media, you can hardly get through a teenage drama without having at least one character deal with the possibility of pregnancy or the implications of sex for the first time, yet this same issue is all but non existent in the massive slew of school age anime, even if an important romantic narrative is present.
I realize that this probably has to do with how sexuality and youth is viewed in each respective society. Both Europeans and Americans have accepted a certain amount of rebellion in their teenagers. The age represents a search for personal identity through experimentation and a certain freedom associated with the possibilities of a starting life. As much as adults shake their heads at the wild kids in the media, we sort of want to see them that way. Relive an exciting and wild coming of age we may never have known first hand.
My understanding is that the love of discipline and respect for experience and age which marks eastern societies means that teenagers are more praised for their obedience and compliance than their verve. As such, even the most rebellious kids are expected to respect certain boundaries if they are of be admired. But still, with budding sexual interests of young men being such an ever present element, you would think a slip up would happen once in a while.
But instead, we see the same boy that was going out of his way to see into the girls' changing room, now furiously blush at the mere thought of holding hands. It's…really sweet, no?
I'm as much of a pervert as the next guy, ok sometimes more, but this self-imposed chastity is kind of charming. The story changes when it's no longer self imposed or mixed in with such gratuitously exploitative fan service that any semblance of respect for the people involve is blown out of the water.
But even in more adult characters, we still rarely see displays of passion unless they are plot relative and often not romantic. By this I mean characters will cozy up to someone in hopes of seducing them to get an advantage rather than because they are drawn to them. Either that or the romantic encounter is one sided and borderline forced.
Even though I really do consider this lighter approach to physical love endearing, it's rather odd when you consider that getting groped by strangers, plotting to see women naked without consent, physical attraction to children and siblings are all widely accepted themes in anime, yet a deep kiss between husband and wife is a rarity.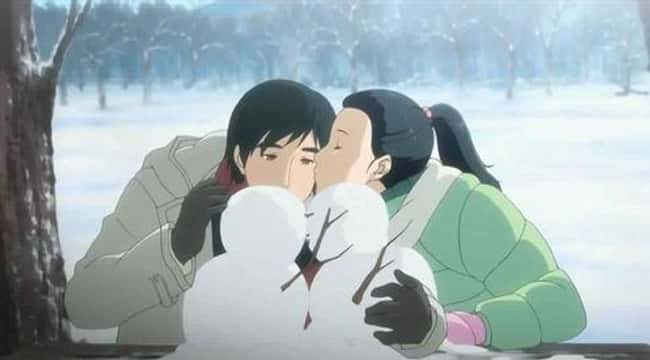 Even married couples act like they barely know each other, referring to one another with stiff honorifics and sleeping in separate beds. Again, I understand perfectly that this is due to cultural differences and public displays of affection are not as accepted, but in a country as traditionally populous as Japan, it's pretty obvious that there's some skinship going on somewhere.
Hmmm, seems once again I've created a jumbled knot of thoughts and words and have to somehow wrestle a point out of it in the closing paragraphs. Let me think… OK, my point is that there's an unbalance.
Attraction and desire are obvious and illustrated plainly in a lot of works but there's never any pay off. Whereas physical displays are often shown as something negative and unwanted or at the very least, incredibly embarrassing. There's a lack of enjoyment when it comes to that particular aspect of human relationships and I find that side a little unsettling.
After all, is there anything more comforting than seeing two people that have shared a lifetime together still be totally into one another and frisky. Of the very many gifts we humans have been given, the ability to enjoy each other's company on a primal level is one of the better ones, we should be grateful for it and celebrate it.
So I'm not necessarily advocating for more sex in anime but possibly for a more balanced approach. There's nothing wrong with a little skinship after all. Maybe we could find a compromise. More general hugging?
As an aside, people here (Montreal) hug all the time and for no reason. I regularly get hugged at work. I work in a law firm, you'd think people would be a bit more scared of getting sued. But really, you meet someone once in passing, you're probably going to get hugged. It's so weird. It took me forever to get used to it. I really wish they would just pat me on the head instead, I'm the right height for that at least.
Back to…whatever this is. If you've been dating for years and are living together, getting all nervous about holding hands is no longer cute, maybe you can move onto stealing kisses.
Well, I guess you win this time point, you got away from me! But next time, next time, you won't be so lucky!
But really, what do you think guys, should we add in some more respectful consensual physical contact? Some kissing or massaging. Maybe scratching your partners back in that spot they can't reach for themselves and the just about purr…I love that….TMI? sorry…