I don't know if you guys remember this, but a little while ago we had a whole series of really awesome posts on the subject of anime deconstructions. A slew of great bloggers weighted in and discussed various aspects and elements of deconstructions. And of course, debated over the definition and even existence of a true deconstruction.
A few of the very talented bloggers in question are my delightful podcast companions and endless sources of inspiration Remy, Scott and Lethargic Ramblings, who all put out truly interesting think pieces on the subject.
I'm not an English major, or minor… my englige not soo gud, so while I find the discussions fascinating, I don't have much to bring to the subject at all.
So naturally, I figured I'd write a post about it!

I noticed a couple of trends after reading a bunch of articles on the subject. Trend the first, people get really passionate about the abstract definitions of plot devices. I'm not saying this is either good nor bad. I'm just impressed. I hope these guys bring the same type of intensity to everything they do, on the other, I'm already feeling a bit out of breath on their behalf! I'm a fan of enthusiasm though.
The second trend I noticed, and the closest thing I have to an actual point, is that people almost always veer the conversation to dramatic or more grim examples of deconstructions. They discuss works that put a serious spin on traditional tropes or subvert genre expectations through realistic treatments, but very rarely discuss the sillier side of deconstructions, generally known as the parody.
I've made no secret that I am one of the rare comedy enthusiasts out there. I love to laugh! I laugh a lot. So, I always get a little defensive when I think the genre is being ignored or belittled. I guess I have a certain inferiority complex about it since I've started reading so many more reviews. I occasionally get the feeling that comedies are regarded as more second rate. You know, not as *important* or smart. Sure you'll go see it, but it won't win any awards. I say phooey to that. I've always considered a good sense of humour an indicator of intelligence. Admittedly, I'm probably biased on that.
But, the parody is a prime example of deconstruction at its finest. It breaks down storytelling to its base components and reinterprets or manipulates them to squeeze out comedy. At their best, these works are just as surprising and genre defying as any of their dramatic counterparts, but they won't leave you reaching for the Prozac™.
They range from biting to gentle, incisive to completely surreal and quite a few of my favorite series can be classified as such.
The delightfully bleak Sayonara Zetsubou-Sensei
This somewhat twisted show mercilessly parodies Japanese culture and tradition, with tongue in cheek black humor. By taking some conventional aspects of Japanese life to their logical extreme, this show manages to make light of some very serious, borderline disturbing subject matter, while educating us clueless Westerners about local customs and taboos.
I'm pretty sure that wasn't the original goal of the series, but it was a delightful bonus, as far as I am concerned.
This said, without going out of its way to spell everything out, Sayonara Zetsubou-Sensei does make some cultural commentary and pass some rather hard judgments on social issues that affect many cultures. To dismiss it as pure fluff would be rather short sighted and a bit of a loss for the viewer, in all honesty.
Admittedly, you can argue that this series isn't a deconstruction at all, as it doesn't breakdown a specific genre. Of course, you can also argue that deconstructions don't exist at all… The point is that this show uses the very familiar confines and tropes of a School Slice of Life to examine subject matter that's usually never broached. It assumes that its audience will be aware and interested in issues that are normally not directed at the demographic. In short, it takes the familiar mold of a genre, and fills it with something unexpected and hilarious.
Whether you chose to call it a deconstruction, a subversion, a reinterpretation, Sayonara Zetsubou-Sensei offers something unique and deserves to be part of the conversation.
The loving homage of Ouran Highschool Host Club
Parodies aren't always derogatory. I could have just as easily chosen Nozaki-kun for this example but as Ouran seems to be a bit better known, I'll go with that.
In both cases though, you have shows that pick at and dissect all the clichés of shoujo and romance series, exaggerating or inverting traditional tropes for laughs, but do so in such a sweet and loving matter, that it's clear they were created by diehard fans of the genre.
These comedies aren't mocking their subjects, they are playfully chiding as close friends do. Gently pointing out the ridiculous and celebrating it. After all, to devote so much time and energy to lampooning something, you better enjoy it on some level.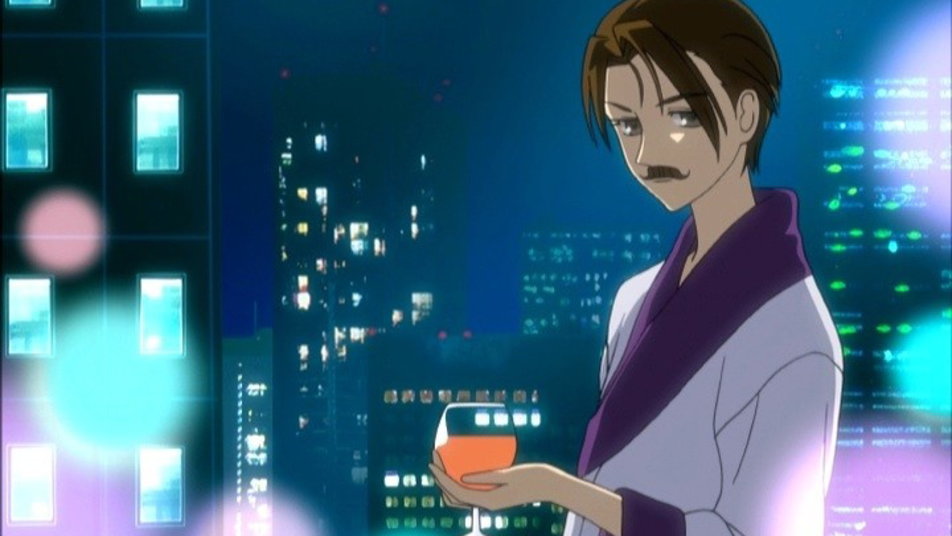 These are clear eyed embraces of everything a genre is usually disparaged for. These shows not only take the time to figure out the core components of what can be called a romantic comedy, specifically one aimed at a young female audience, but they also take them apart to represent them in a hilarious way that remains respectful. They make you happy to be a fan and allow you to stand tall and laugh along next time someone is making fun of the genre.
Most of us will probably never appreciate this. No one is going to write drawn out academic parsings of Ouran. But you know what, it's on a lot of favourites lists for a reason. I bet at least one of you is thinking, yeah I really liked that show…
The Master of them all Gintama
Well naturally, we can't talk parody without mentioning Gintama. Hailed as uproariously hysterical, the series has managed to remain incredibly popular through hundreds of episodes (and over a decade of airtime) while poking jabs at every genre, stereotype and even other specific series.
You cannot deny the writing skill that has gone into such an accomplishment. You can also not deny that the series tackles a number of genres and clichés at their most basic iteration and then puts them together into something that's undeniably Gintama.
It has had some flashes of brilliance that are not easily paralleled.
As I said, I simply don't have the background and information to properly discuss anime deconstructions on the same level as my fellow bloggers, but I love reading about it. And as a fan of you guys' posts, I would love to see your analysis of parodies as deconstructions, or not deconstructions…
Also the word deconstruction is in the title of the post so I think I'm contractually obligated to mention Madoka so um – will Magical Girl Ore (haven't seen it) be the NEW Magical Girl Deconstruction?